Discover more from Men Yell at Me
Written from a journalist in a red state, this newsletter is personal, political, sometimes funny and always raises hell.
Over 39,000 subscribers
Killing the Myth of The Guy You Want to Have a Beer With
The pint-sized American political imagination
This newsletter is a guest post written by
. Dave is one of my favorite newsletter writers. I started reading him last year when I saw
one of his beer memes
. Dave's newsletter
, is a funny, sharp, insightful look at booze and culture. He is also a two-time James Beard award-winning journalist who publishes Fingers, an independent newsletter about drinking in America. He also works as a contributing editor and columnist at VinePair, where he publishes the weekly beer-industry column Hop Take, and produces and hosts the beer history podcast Taplines. His reporting has appeared in The New York Times, HuffPost, The Guardian, MEL Magazine, Fast Company, PUNCH, and others. He can be found on Twitter (
@dinfontay
) and Instagram (
@its.fingers
). He lives in Richmond, Virginia.
---
In 2009, then-President Barack Obama orchestrated a White House meeting between a Black Harvard professor and the white policeman who had, just a few weeks prior, wrongfully arrested him on his own property in Cambridge, Massachusetts. Do you remember this? According to the professor, Henry Louis Gates, Jr., the administration stage-managed the hell out of the reconciliatory rendezvous in order to deliver what the New York Times later referred to as "positive closure" on the affair, in which Obama had entangled himself by (correctly) observing that the arresting officer had acted "stupidly."
As the president backpedaled, White House aides choreographed. They told Gates not to wear a nice suit or fly in on a private plane because they didn't want to sully this feel-good performance of forgiveness with the optics of class divide, and they acceded to the Cambridge police department's request to include then-VP Joe Biden in the meeting to make sure the white cop wouldn't be outnumbered by Black men. Very cool and normal stuff!
Also cool and normal, and relevant to our purpose: to consummate this neoliberal exercise in classless racial harmony, all four men drank a beer together.
14 years later, Obama's "beer summit," as the mainstream press breathlessly branded it at the time, has held up about as well as his track record of extrajudicial drone killings, environmental destruction, and corporate coziness. Which is to say: not well! But the notion that Americans should set aside their differences to come together over a beer—and that such an act is somehow revelatory or politically transcendent—predated Obama's centrist theatrics in the late Aughts, and has mostly endured since. Heading into the 2024 presidential election, a familiar version of this American delusion is once again in the air. I'm talking, of course, about the "guy you'd want to have a beer with" theory of electoral politics.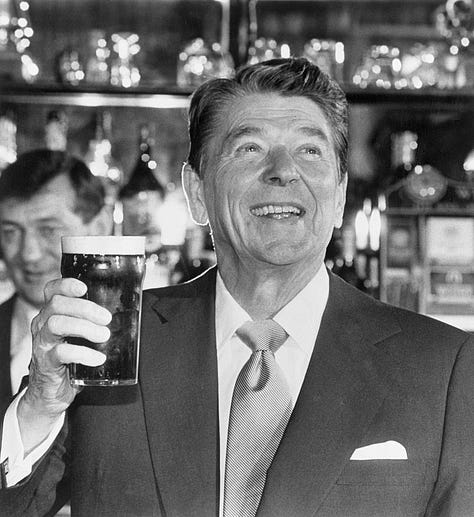 Also known as "the beer question," the idea is that presented with two candidates, the American electorate will vote for—you guessed it—the guy they'd most want to have a beer with, rather than the one with better bona fides or ideological vision. That the United States voting public is superficial is hardly a recent discovery, but pundit-class consensus dates this particular mode of superficiality and juvenility at the ballot box to 2004, when George W. Bush won reelection against sentient Lincoln Log John Kerry. Even with "the fetid albatross of the Iraq War dangling from his neck," wrote Seth Stevenson for Slate in February 2016, Bush ascended because he seemed chill and down to earth. "Uptight Al Gore and pinot-sipping John Kerry just weren't desirable barstool neighbors […] while Bush could sell himself as someone whom you'd like to sip a Coors adjacent to." (A  2004 Zogby/Williams poll found 57% of voters in that election were buying, despite the fact that Bush was off the drink by then.)
Stevenson was reexamining the phenomenon in the context of then-candidate Donald Trump's resilient appeal in the face of nonstop scandal. The column ran eight months before the Washington Post published the infamous Access Hollywood tape, but by the top of 2016 no honest dealer could reasonably claim to be ignorant of our big, beautiful bankruptcy connoisseur's rank misogyny. Observing (correctly) that the charismatic Trump was the clear No. 1 drinking buddy choice amongst that year's Republican field of corporate simps, gun-humpers, and gubernatorial pain-inflicters, Stevenson allowed that there was "some mild sexism inherent in the want-to-have-a-beer-with formulation."
In hindsight—and, honestly, at the time, too—that was putting it pretty mildly. Though American men always have, and still do, drink many more units of alcohol by volume, contemporary American women drink at roughly comparable rates per capita, according to a recent study from the National Institute on Alcohol Abuse and Alcoholism.  But it's called the "guy you'd want to have a beer with" theory for a reason, and it's the same reason you used to hear a lot about Joe Six-Pack, but not Jane: after two centuries of "working man's drink" hagiography, the beverage remains coded heavily masculine in these United States. 
To be clear, I wouldn't drink alongside either Trump (a teetotaler, failed vodka brand notwithstanding) or his 2016 opponent, Hillary Clinton, the former's sweaty bigotry being only slightly more of a turnoff to me than the latter's hawkish corporatism. But rather than divining the precise amount of casual misogyny brewed into Hillary's historic L, which has been done ad nauseam, I want to highlight a less obvious shortcoming of the "beer-as-political barometer" doctrine. Using the "guy I want to have a beer with" test of a political candidate supplants adversarial scrutiny of that candidates' actual politics with a sort of parasocial fandom willfully ignorant to this country's deteriorating material conditions of existence. 
Politicians are not your friends! It's weird to treat them like drinking buddies, celebrities, or—god forbid—sex symbols! They are supposed to be improving your life, not handing you a High Life! If the chill-seeming guy next to you at the bar turns out to be doing crimes, it's pretty easy to move seats. If the chill-seeming presidential candidate turns out to be doing crimes, it's considerably less easy to move countries. For these reasons and many more, the "beer test" is a deranged rubric with which to evaluate someone who wants to play quarterback with the nuclear football. Yet as this country's lift-kit bourgeoisie goes Nazi and hellfire blankets the land, it persists. Why?
Using the "guy I want to have a beer with" test of a political candidate supplants adversarial scrutiny of that candidates' actual politics with a sort of parasocial fandom willfully ignorant to this country's deteriorating material conditions of existence.
Corporate media of course shares part of the blame. This inane game of political analysis fills cable airtime and column inches, and in a for-profit news ecosystem, that makes it indispensable to a chattering class that has neither the intellect nor the inclination to interrogate power on merit. But I suspect the durability of the beer question owes more to the beverage's indelible, almost mythic place in American culture. 
Beer is egalitarian. It's the affordable luxury of the everyman—or the every person, such as it is. Thanks to half a century of national television advertising, a golden pint conjures idealized Americana visions: factory workers after a shift, amber waves of grain in the wind, "Take Me Out to The Ball Game" during the seventh-inning stretch. Beer is totemic of the sort of folksy, working-class "authenticity" that national candidates from both parties trip over themselves to demonstrate with workwear wardrobes and state-fair pilgrimages. It's a gauzy lens through which ambitious, savvy politicians love to be seen, because when voters ask the beer question, they lose sight of what's possible. 
Ever thus. In 2004, the beer test helped keep George W. in office despite the illegitimate and already-catastrophic invasion of Iraq. Five years later, beer gave Obama cover from damaging accusations of selling out cops and white voters who put him in office the year prior, robbing the public of knowing their president's actual stance on police overreach and brutality. Trump's performance of swashbuckling barroom masculinity elevated him on 2016's hypothetical happy hour circuit with a hoi polloi suspicious of Clinton's elite, wine-sipping ways, even if it couldn't give him an edge over "Joe from Scranton" and his aviators in 2020. (Biden: another teetotaler!)
Now, as a new crop of politicians line up against that party's Poster-in-Chief, questions bubble up anew from Beltway bowels about which candidates are "beer track" and which are "wine track." Not that I'd expect nuanced, constructive analysis of race and class from the view-from-nowhere pundits of the horserace-industrial complex, but the beer question helps to preclude the mere potential. 
So down with "the guy you'd want to have a beer with" theory of American electoralism, says I! It's the outgrowth of a cosmetic politics dedicated to preserving the status quo, empowering do-nothing dipshits and charming charlatans at the expense of progress. There is no down-home wisdom in treating elections like drinking games, no salt-of-the-earth essence in candidates who seem capable of cracking open cold ones. A pliant media and a braying electorate guarantees the beer question will endure—but that doesn't mean you have to swallow it.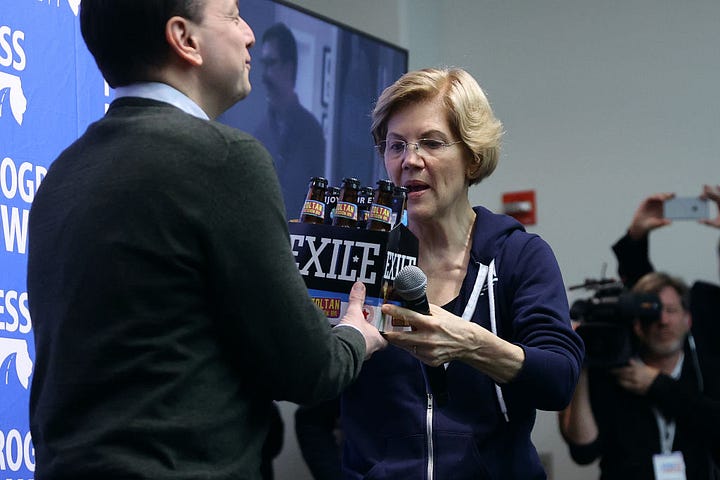 ---
Read more:
Last year, I wrote for Politico about food and politics.
Also, if you missed my writing, I wrote for Dave's newsletter about beer companies pandering to the Midwest.
Also, if you are a regular reader, you know that last weekend, I and a bunch of people from this newsletter community ran a 339-mile relay across the state to raise money for trans rights. And we did it! And in the process raised over $4,000. Thank you so much. This incredible community gives me hope.